In de Indiase keuken spelen kruiden en specerijen een belangrijke rol. Hier een overzicht van deze Indiase kruiden en specerijen.
Overzicht van specerijen
Hier een overzicht van vaak en minder vaak gebruikte specerijen in de Indiase keuken. Sommige specerijen zijn heel specifiek voor de Indiase keuken en andere vindt je over de hele wereld. Toch leek het mij nuttig om een overzicht te geven met wat links naar andere sites. Toen ik begon heb ik namelijk al mijn info bij mekaar moeten sprokkelen, ik hoop daarom dat mensen wat aan dit verhaal hebben.
Ik heb overigens een paar aparte verhaaltjes over het gebruik van chilipepers in de Indiase keuken geschreven. Dus in dit verhaal verder geen info over chilipepers en chilipoeder.
Als je ook wat wil weten over andere benodigdheden voor de Indiase keuken klik dan op de link, in dit artikel beperk ik me even tot de kruiden en specerijen voor Indiase gerechten. Ik heb overigens enkel gedroogde kruiden en specerijen opgenomen, zeg maar dingen die je in je keukenkastje bewaart.
Belangrijkste Indiase kruiden en specerijen
Eén van de redenen dat ik graag Indiase gerechten maak is dat je met een beperkt assortiment aan gedroogde en gemalen specerijen heel veel gerechten kunt maken. En dat is verdomd handig als je net als ik in een dorp woont.
Als je de volgende specerijen in je keukenkastje hebt staan dan kom je een heel eind met het maken van Indiase gerechten.
gemalen kurkuma
rood chilipoeder
garam masala. Dat is een mix van gedroogde en gemalen specerijen. Beste om zelf te maken.
korianderzaad, daar maak je makkelijk zelf gemalen koriander van
komijnzaad, daar maak je makkelijk zelf gemalen komijn van
gedroogde rode chilipepers
gemalen gember
zogenaamde whole spices, zoals groene kardemom, kaneel stokjes, kruidnagels, zwarte peper korrels
Naast specerijen in je keuken kastje zijn verse spullen zoals uien, knoflook, gember en korianderblaadjes onmisbaar maar dat kun je in iedere supermarkt vinden.
Houdbaarheid van specerijen
Veel gemalen specerijen en mengsels van specerijen blijven maar beperkt goed – vaak neemt na drie maanden de kwaliteit al ernstig af – en daarom raad ik je aan om het kopen van gemalen specerijen en mengsels van gemalen specerijen zo veel mogelijk te beperken. Het is veel handiger (en goedkoper!!) om zelf die specerijen te malen en dan zelf die mengsels van specerijen te maken.
De zogenaamde whole spices blijven vaak heel lang (meestal jaren) goed. Dus als je een flinke zak korianderzaad hebt, dan maal je zelf je gemalen korianderpoeder maar ook heb je dan een ingredient voor tal van blends (masala's). Sommige specerijen kun je alleen gemalen kopen, zoals bijvoorbeeld amchoor, maar probeer dat zo selectief mogelijk te doen.
Waar koop je ingrediënten voor de Indiase keuken?
Ik woon zelf in een dorp redelijk dichtbij Tilburg en Breda. En waar vind ik nou wat? Uiteraard zijn er bij de supermarkt best een boel kruiden en specerijen te koop. Maar het aanbod is beperkt en je betaalt voor kleine hoeveelheden de hoofdprijs. Dus wat ik doe is een soort boodschappenlijst maken voor de toko's in mijn regio en eens in de zoveel tijd ga ik shoppen in Tilburg of Breda. Ik vind zelf de Amazing Oriental winkel in Breda echt geweldig.
Daarnaast ben ik fan van online webshops. Bij Amazing Oriental kun je veel kopen maar uiteindelijk zijn ze meer Aziatisch georiënteerd, en de typisch Indiase ingrediënten ga je daar niet snel vinden. Tot voor kort maakte ik enkel gebruik van online toko's uit Engeland. Want de Indiase keuken is zo ongeveer de volkskeuken van Engeland en in Engeland zijn er uiteraard heel veel winkels waar ze ingrediënten voor de Indiase keuken verkopen. En zo zijn er ook wat ik maar online toko's noem. Ik zal er een paar noemen met een goed aanbod:
Met name met Spices of India ben ik heel tevreden voor specifiek Indiase spullen. Je kunt daar zelfs ook keukenspullen kopen om mee te koken en om uit te eten. Inmiddels is er het een en ander veranderd want ook in Nederland zijn de laatste jaren enkele goede online toko's gekomen met een specifiek aanbod van Indiase ingrediënten. Ik noem er een paar:
Je vindt ze door op "online Indiase supermarkt" te googlen. Ik heb zelf inmiddels een goede ervaring met Mantra Food, De Indian Mart en Ekirana. Dit is wel mijn top voor de India specialisten. Bij Sunderban heb ik nog nooit besteld.
Daarnaast ben ik erachter gekomen dat oa Amazing Oriental zowel op de versafdeling als in de diepvries een heleboel spullen heeft die je zelf lang kunt bewaren als je ze thuis in de vriezer doet. En die kun je gewoon online bestellen.
Verse curry blaadjes is bijna niet aan te komen maar Amazing Oriental heeft ze in de vriezer. Zo ook voor salam en limoen blaadjes. Rode en groene pepers koop je met grote hoeveelheden en vries je in. Het is zeer de moeite waard eens goed te kijken wat die toko's allemaal in de vriezer hebben liggen en wat je van de versafdeling goed kunt invriezen.
Nog even het dit…
Als je echt veel en gevarieerd Indiase gerechten wilt maken heb je een flink assortiment aan kruiden en specerijen nodig. Hieronder een min of meer compleet overzicht van kruiden en specerijen voor de de Indiase keuken. Ik heb steeds drie namen opgenomen: de Nederlandse, Indiase en Engelstalige naam (in deze volgorde).
Ik heb in dit overzicht voor de meeste kruiden/specerijen een LINK naar de website Aziatische Ingrediënten opgenomen. Dat is wel net zo makkelijk. Dus als op je op Ajowan klikt kom je bij Aziatische Ingrediënten uit en daar krijg je antwoord op de belangrijkste vragen die je hebt. Ik zal in mijn eigen verhaal alleen info opnemen die iets toevoegt aan de info van Aziatische Ingredienten. Daarnaast heeft ook Serious Eats veel onderzoek naar specerijen gedaan, dus ik heb ook wat links naar die site geplaatst.
Ajowan/Ajwain/Carom
Ajowan is een soort gedroogde tijm, maar dan sterker. Het is typisch Indiaas maar wordt niet zo vaak gebruikt.
Amchoor/Amchur/Mango Powder
Er zijn diverse manieren om "zuur" toe te voegen aan een gerecht in de Indiase keuken, dat zijn citrus vocht (citroen, limoen), tamarinde water, en een stofje Amchoor genaamd. Het is poeder gemaakt van onrijpe mango's en wordt meestal aan het eind van een bereiding toegevoegd, o.a. bij de bereiding van dahl. Luchtdicht afgesloten in de koelkast heel lang houdbaar.
Amchoor is echt iets wat je typisch in de Indiase keuken tegenkomt en daarbuiten niet of nauwelijks. Maar mocht je geen citroenen in huis hebben dan kun je altijd terugvallen op amchoor (dus ook voor niet-Indiase gerechten). Bij Serious Eats zijn ze zeer enthousiast over de gebruiksmogelijkheden van amchoor.
Asafoetida/Hing/Asafetida
Asafoetida of duivelsdrek is een smaakmaker, die meestal aan het begin van de bereiding wordt toegevoegd. Ik gebruik het vaak bij het maken van dahl, dus bij peulvruchten. Ook dit stofje is lang houdbaar.
Bij Serious Eats worden ze helemaal opgewonden van dit stofje 🙂
But oh what a wonderful substance it is! Asafoetida is one of the most distinctive spices in South Indian cuisine that transforms a dish (and the kitchen, and maybe the room adjacent to it) into something magical. It's one of the most interesting and memorable aromas you encounter when entering a South Indian restaurant or kitchen. When used judiciously the effect is nothing short of transporting; your forays into Indian cooking will benefit immeasurably from its use, for which there's no substitute.
Asafoetida-flavored olie is een basis ingredient in Hindu koken omdat het gebruik van uien niet is toegestaan. Je ziet het gebruik van "hing" dus vooral in Zuid-Indiase recepten terug. Toch zie je ook best recepten waarbij zowel uien als hing worden gebruikt. Spaarzaam gebruik en aan het begin van de bereiding toevoegen dus.
Zwart zout/Kala Namak/Black Salt
Julie Sahni zegt in haar boek "Classic Indian Cooking" het volgende over het gebruik van dit "zwarte zout" in de Indiase keuken:
Salt is used not only for seasoning but also as a spice to flavour food. Especially in the North, different varieties of salt are used to flavour cold appetizers (chat), relishes (chutney), and cold drinks. These are spicy salts in their natural form, each with a different taste, aroma and chemical composition.
Ik heb zelf "black salt" leren kennen door de recepten van Sinfully Spicy die dat onder andere in haar Kachumber Salad gebruikt. Heerlijk 🙂 De kleur van Black Salt is bruin/zwart als het in een klompvorm is maar eenmalig gemalen is het "pinkish-brown".
Kala Namak wordt ook veel in street food (bijv. Aloo Chaat) gebruikt en geeft "oomph" aan die gerechten. Je moet het echt eens gebruiken !! Buitengewoon lang houdbaar.
Fenegriek/Methi/Fenugreek
We gebruiken fenegriek als blaadjes en als zaadjes en soms ook in gemalen vorm in de bereiding van Indiase gerechten. Fenegriekzaad is ook één van de ingrediënten voor het maken van madras curry poeder. Fenegriek heeft een uitgesproken smaak en geur (zoet en bitter), en wordt het beste gecombineerd met andere spices. Serious Eats zegt daarover:
… when combined with aromatics and spices, fenugreek contributes a complex sweetness and a subtle bitterness to saucy dishes.
De zaadjes worden net als andere "whole spices" het beste aan het begin van de bereiding van een gerecht in de hete olie gedaan en de blaadjes op het einde:
The seeds benefit from longer cooking to infuse with other flavors, so when a recipe calls for fenugreek I like to start with the seeds and finish with the leaves. This two-stage approach "refreshes" the spice, giving you the best of long-cooked flavors and barely-heated aromas. The seeds have their own uses, so I keep them around as well as the leaves. Give them a pan roast to reduce their bitterness, then add to pickle brines, homemade curry powders.
When dried, the leaves retain most of their flavor and make excellent last-minute additions to sauces, curries, and soup.
Gemalen fenegriek wordt o.a. gebruikt in curry mengsels en door het zaad eerst te roosteren wordt het minder bitter. Die bittere kant van fenegriek is reden om het behoedzaam te gebruiken:
But when experimenting, proceed with caution. Even though pan-roasting reduces its bitterness, too much fenugreek is overwhelmingly bitter. And even when used in appropriate amounts, you'll want to finish your dish with a heavy sprinkling of lime or lemon juice. The acid cuts a sweetness that would otherwise be cloying and is necessary to draw out all the rounded, complex flavors fenugreek has to offer.
Als ik kijk naar mijn eigen gebruik dan gebruik ik de fenegriek zaadjes en de fenegriek blaadjes vrij regelmatig. Maar gemalen fenegriek bijna nooit. Dus beter om zaadjes te kopen (zeer lang houdbaar) en dan zelf te malen als je een keer gemalen fenegriek tegenkomt. De gedroogde fenegriek blaadjes kun je luchtdicht afgesloten ongeveer een jaar in de koelkast bewaren.
Kaneel/Dalchini/Cinnamon
Als er over kaneel in Indiase recepten wordt gesproken is het altijd moeilijk om te weten waar men het over heeft. Er is namelijk de zogenaamde Ceylon kaneel, die uit Sri Lanka komt en dan heb je Dalchini (Cassia Bark). Ceylon kaneel en Cassia Bark komen van verschillende soorten bomen.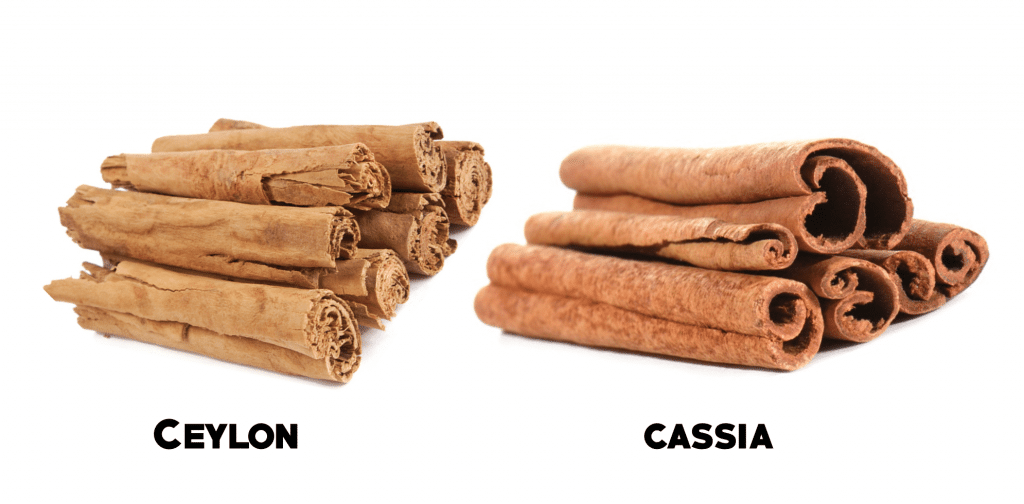 Aziatische Ingrediënten zegt daarover:
Kaneel is zachter van smaak, minder bitter en wordt hoger aangeschreven dan kassia. Kassia kun je altijd wel vervangen door kaneel, andersom liever niet.
Heat in the Kitchen zegt:
Ceylon cinnamon is preferred by some for its sweeter, more delicate and complex flavor. Others prefer Cassia for its headier flavours.
Volgens mij wordt in de meeste recepten van Indiase schrijvers van Dalchini uitgegaan. Maar bijvoorbeeld Meera Sodha (van het bekende boek Made in India) geeft de voorkeur aan Ceylon kaneel (ook wel "true cinnamon" genoemd) in haar recepten.
Maar als je naar een toko gaat om daar een zakje kaneelstokjes te kopen, bijvoorbeeld die van het merk TRS, dan zul je daar vrijwel altijd DALCHINI cinnamon sticks op zien staan. Sterker nog, als je echt Ceylon kaneel wilt hebben, dan moet je naar zo'n gespecialiseerde online shop voor specerijen, zoals bijvoorbeeld De Kruidenbaron.
Bottom line, je kunt in Indiase recepten beide soorten kaneel gebruiken en hou je meer van de zachtere, zoetere smaak van Ceylon kaneel dan ga je daarvoor en anders gebruik je het meer gangbare Cassia Bark.
Je kunt een stokje vermalen om gemalen kaneel te krijgen maar soms is het handig ook een klein potje gemalen kaneel ter beschikking te hebben. De stokjes blijven heel lang goed en ook de gemalen kaneel kun je wel een jaar bewaren.
Kardemom/Elaichi/Cardamom
In de Indiase keuken wordt groene en zwarte kardemom gebruikt, alhoewel de groene kardemom de meest gebruikte is en als er kardemom zonder enige verdere aanduiding in een recept staat dan wordt altijd de groene bedoelt.
Wordt zowel bij de bereiding van hartige als zoete gerechten gebruikt, maar ook in masala's (bijvoorbeeld garam masala). Meestal gebruik je hele peulen, die je dan even kneust voordat je ze aan het gerecht toevoegt, maar soms is gemalen kardemom ook handig. Serious Eats wordt helemaal lyrisch van kardemom en noemt het de Queen of Spices:
No other spice more completely captures the essence of the exotic. No other ingredient could make a peasant's mash of legumes and onions taste like food royalty. Even to its culinary home, cardamom's perfume is lavished on dishes as a way of making even mundane foods something completely different.
En over het gebruik in gerechten zeggen ze:
Cardamom's complex flavor is difficult to describe: part nostril-widening menthol, part dew-drenched flower, part honeyed syrup. There's nothing subtle about cardamom, so when used in all but sparing amounts it will dominate whatever it's paired with. Used properly, it elevates sweet and savory dishes, adding layers of flavor that stay with the tongue for a whole meal. Its minty qualities open up the palate while its floral nature adds a nuanced sweetness, finishing with a note of almost herbal bitterness.
Dus zeer spaarzaam gebruiken, meestal worden maar enkele "pods" aan een gerecht toegevoegd. Maar je zult kardemom naast komijn en koriander zeer vaak aan curries toevoegen.
Kerrie Blaadjes/Kadi Patta/ Curry Leaves
Curry poeder bestaat niet echt in de Indiase keuken -men kent wel masala's, maar niet het kerriepoeder zoals wij dat kennen. Wat ze wel kennen zijn kerrieblaadjes of meestal curry leaves genoemd in Engelstalige recepten.
Er is hier in Nederland vrijwel niet aan te komen, althans niet de verse groene blaadjes. Er zijn wel zakjes met gedroogde kerrieblaadjes te koop maar die kun je volgens mij beter in de winkel laten.
De meeste toko's verkopen een pakje ingevroren kerrieblaadjes en dat is wat je eigenlijk het beste kunt kopen, want die zijn goed bruikbaar. Als je er niet aan kunt kopen maak dan het recept zonder de kerrie blaadjes want ze zijn niet te vervangen.
Komijn/Jeera/Cumin
We beginnen met de verwijzing naar de uitleg bij Aziatische Ingrediënten. Over de smaak en het gebruik van komijn in eten zegt Serious East het volgende:
Cumin has an unmistakable flavor: it tastes earthy, musky, gamey, and spicy. Cumin complements chiles beautifully, bringing additional heat to a dish while balancing their fruitiness. And for those who want great flavor but can't handle much spiciness, cumin offers much more flavor and aroma for its heat than many chiles. Its pungency is perfect for any gamey meat like goat, lamb, or venison.

To keep the flavor more confined to the seeds, toast them in a dry skillet till just fragrant (then remove them to a plate or bowl so they don't overcook). To infuse the entire dish with cumin goodness, fry them in hot oil until they make cracking sounds before adding additional ingredients. Either way, don't cook them longer than you have to, as small spices especially can burn easily. If you do burn them, toss them out and start again; there's no rescuing bitter cumin.
Om de smaak van komijn aan een gerecht mee te geven bak je het dus het beste als "whole spices" in de olie voordat je andere dingen in de pan doet!! Serious Eats zegt zelfs:
Don't bother with ground cumin, whether home-ground or store-bought. Grinding intensifies spices' flavor but at the expense of their rounded depth.
Ook voor gemalen komijn geldt, dat je het 't beste zelf maakt door het komijnzaad eerst licht te roosteren – "releases the essential oils in the seeds, makes them highly aromatic and mellow" – en dan in een koffiemolen te vermalen. Je kunt gemalen komijn enkele maanden gebruiken voordat het zijn smaak begint te verliezen.
Koriander/Dhania/Coriander
Je hebt korianderzaad, gemalen koriander en korianderblaadjes. De blaadjes worden meestal als garnering gebruikt, het korianderzaad en korianderpoeder om te koken. Koriander is onmisbaar in de samenstelling van vele masala's en in curry poeders zoals Madras curry poeder.
Over de smaak van Koriander zegt Serious Eats het volgende:
Coriander is hard to pin down in so many recipes because its flavor is all over the map. It has a sensual musk punctuated by an unlikely citrus twang. There's a raw earthy scent to it, made civilized by notes of butter and thyme.

How coriander is prepared also greatly effects its final flavor, and what other flavors it goes well with. When left whole, coriander is as floral as cardamom—its flavor full of citrus and curry, light and sweet (the seeds are fun to crunch on, too). When ground, the seeds' roasted, nutty aromas come to the fore, though at the expense of all that lovely citrus. Similarly, coriander's flavor deepens the longer it cooks, but its uniqueness falls into the background.
Ook voor koriander geldt dat je het beste zelf gemalen koriander maakt (nadat je de zaden eerst geroosterd hebt).
Kruidnagels/Laung/Cloves
Kruidnagels zijn meer dan bekend in onze westerse keuken en ze worden ook veel in Indiase gerechten gebruikt. In kleine hoeveelheden dat wel. Luister naar Serious Eats, die weten het toch iedere keer heel leuk te vertellen 🙂
If you put all the sweet spices into a battle royal, clove would win every time. Cardamom would be afraid to break a nail. Allspice, usually a supporting player anyway, wouldn't stand a chance. Nutmeg, perhaps, would put up a fight, but its strength is so fleeting it'd tap out in the first ten minutes. Clove is definitely the brashest, bossiest spice you could put in your gingerbread.
Kruidnagels zijn gewoon onmisbaar in de bereiding van Indiase gerechten. Je hebt maar zelden gemaken kruidnagels nodig, dus beter af en toe een heel kleine hoeveelheid zelf malen.
Kurkuma/Haldi/Tumeric
Kurkuma is misschien wel het eerste waar je aan denkt als je over Indiase curries praat. Het meest wordt het in gedroogde en gemalen vorm gebruikt, het kurkuma poeder. Primair om kleur te geven aan gerechten, hoewel dat regio gebonden schijnt te zijn. In sommige regio's gebruikt men saffraan en geen kurkuma. Afijn, een flinke pot kurkuma poeder aanschaffen is één van de eerste dingen die je doet als je Indiaas wil koken.
Laurierblad/Tej Patta/Indian Bay Leaves
Als er in een recept voor een Indiaas gerecht Laurierblad of Bay Leaf wordt gebruikt, neem dan nooit het Europese laurierblad. Men bedoelt altijd het Indiase laurierblad oftewel "Tej Patta". Indiase laurierbladeren zijn niet hetzelfde als Europese Laurierbladeren!!
De Indiase laurierbladeren (ook wel Teja Patta of tej patta genoemd) hebben een heel ander smaakprofiel dan de Europese laurierbladeren. Je kunt onze laurierbladeren dan ook niet als een vervanger van Indiase laurierbladeren gebruiken.
Quoting Heat in the Kitchen about this:
Teja Patta, the Indian Bay leaf, tastes more like cinnamon, but milder, and is indeed the leaf of the Cassia tree. The Laurel Bay leaf, common in the West, has a completely different flavour profile, and is not a good substitute for the Indian bay leaf, even if the recipe indicates that it is. There are no similarities between the two. The best thing to do if you don't have Teja Pata is to leave it out altogether, or add a little cassia bark, cinnamon or an extra clove instead.
The Teja Patta leaf is much larger than the Laurel Bay leaf, and has three spines down the middle instead of one. It is the leaf of the cassia plant and the cinnamon-clove-like flavor is unlike the other varieties.

Confusion in Indian Recipes

Vrijwel iedere toko heeft gedroogde Indiase laurierbladeren, oa in zakjes van het merk TRS. Gebruik deze voor Indiase gerechten, c'est ca.
Maanzaad/Poppy Seed
Je bet het ons bekende donkerkleurige (zwarte) maanzaad en het witte maanzaad dat in de Indiase keuken wordt gebruikt. Rauw is dat witte maanzaad vrij smaak- en reukloos. Ze worden vaak gemalen en zijn bedoeld als een "verdikker" voor de saus.
Often the seeds are roasted prior to being ground. This not only makes the grinding easier but gives the sauce a wonderful aroma, much like the roasted sesame seed oil used in the Chinese kitchen.
Dus gebruik het witte maanzaad!!
Mosterdzaad/Rai/Mustard seed
Het gele mosterdzaad dat bij ons meer bekend is wordt in zover ik weet in de Indiase keuken nauwelijks gebruikt. Wel het bruine en het zwarte mosterdzaad, waarvan het bruine mosterdzaad het meest gebruikte is (en wat je moet nemen als er geen verdere aanduiding in een recept staat).
If you like your mustard with more kick, or have Indian cuisine set in your sights, brown/black mustard is the way to go. It's the same size as common yellow mustard seeds but with a more intense flavor that tastes more mustardy.
Mosterdzaad wordt meestal als eerste ingredient in de hete olie gedaan en begint dan al snel te "poppen". Dat bakken in olie is heel belangrijk want daardoor verliest mosterdzaad zijn bitterheid en geeft die spicy smaak aan eten. Serious Eats zegt:
Raw mustard seeds have a face-warping bitter quality that tastes like it'll scare any illnesses right out of you. That also made them just the thing for covering up the taste of rotting meat.

But when treated with heat, mustard's character changes completely. What was an awful, one-dimensional bitterness becomes a pleasant pungency that uplifts pickles, stir fries, curries, and all matters of roasted meat and vegetables. From appetizer to main course to, yes, condiment, mustard seeds are one of the most versatile spices you can have in your pantry.
Bruin en zwart mosterdzaad zijn echt onmisbaar in de Indiase keuken.
Nigelle Zaad/Kalonji/Nigella
Nigelle zaad (ook wel "onion seed" genoemd) is echt iets van de Indiase keuken en je komt het daarbuiten niet vaak tegen. Julie Sahni zegt erover:
The satin-black triangular Kalonji has a sweet taste and aroma much like oregano.
Verwar Nigella zaad niet met zwarte komijn of zwart sesamzaad want dat is echt iets anders
Nootmuskaat en Foelie
Nootmuskaat en Foelie komen beiden van de nootmuskaat boom. Je kunt beter geen gemalen nootmuskaat of foelie in potjes kopen/bewaren maar stukjes foelie en wat nootmuskaat noten op voorraad hebben. Over de smaak en gebruik van nootmuskaat zegt Serious Eats:
Yes, nutmeg is a classic member of the sweet spice quartet, but more than allspice, cloves, and even cinnamon, nutmeg can stand on its own (and its taste is often improved without those harmonizing flavors).
Foelie heeft volgens Julie Sahni "a pungent aroma much like nutmeg" but is stronger and has a bitter taste. Volgens haar kun je het niet door mekaar gebruiken.
Saffraan/…/Saffron
Het ook ons bekende saffraan wordt vooral gebruikt om kleur aan een gerecht te geven. Verkruimel het eerst en week het een kwartiertje in een klein kommetje heet water of melk.
Sesamzaad/…/Sesame seed
Er is witte en zwarte sesamzaad. In de Indiase keuken is het witte sesamzaad het meest gebruikte, neem dat als er enkel sesamzaad in het recept staat. De smaak en geur van sesam is nootachtig, and de zaadjes geven een plezierige crunch aan een gerecht.
Venkelzaad/Saunf/Fennel
Strikt genomen niet echt iets specifieks Indiaas maar ik noem het toch omdat het regelmatig gebruikt wordt. De smaak is een beetje als anijs, maar zachter, zoeter, grassiger. Het wordt bijvoorbeeld in Madras curry mengsels gebruikt om een zoete component toe te voegen. Serious Eats zegt over venkelzaad het volgende:
Fennel pollen is an incredibly powerful spice, with notes of licorice, citrus, and handmade marshmallows.It tastes like pure summer joy.
Maar pas op met het gebruik!!
The trick to fennel pollen is not to overuse it. A little really does go a long way, and even a gingerly pinch may be too much.
Zwarte Komijn/Shah Jeera/Black Cumin
Allereerst is er de nodige verwarring over kummel, karwij en komijn, maar in de Indiase keuken maakt men het nog bonter: er wordt zowel gewone komijn als "zwarte komijn" gebruikt.
Black Cumin is distinctly different in flavor from common cumin. It is dark colored and finer, with a sharper flavor. It is also more expensive. It is used in northern meat and rice dishes.
Heat in the Kitchen zegt daarover:
Black Cumin is a rarer and more expensive form of cumin, with sweeter, smaller, finer and more delicate seeds. The colour ranges from dark brown to black and it is often confused with nigella seed.

The dark brown, 3 mm long seeds are used primarily in India, Kashmir, Iran and Pakistan, and have an earthy, heavy aroma and a nutty taste after cooking. Black cumin originates in Northern India and Central Asia, and is not much known outside Iran, Tajikistan, Pakistan and the western part of Northern India (Kashmir, Punjab).
Als in een recept komijn wordt genoemd, gebruik dan altijd de gewone komijn.
Specerijenmengsels
De Indiase keuken is ook bekend vanwege de specerijenmengsels. Ik geef hier een aantal waar ik een recept voor heb om ze zelf te maken: